I recently had the opportunity to partner with Edaville Family Theme Park. Edaville is a small, kid-friendly theme park in Carver, MA. It offers lots of history of the area, facts about the cranberry bogs, (which are plentiful) and lots of family fun! Along with the new Thomas Land, there is Dino Land, and the original theme park, Edaville, which has many carnival-like rides.
When we arrived at Edaville, we headed straight for Thomas Land, of course! Thomas Land has all character-themed rides. You can also visit Knapford Station and Sodor Sweet Shop. The decor looks like you are on the Island of Sodor, it's so neat!
Tom and I were able to convince Roman and Mallory to go on almost all the rides there. Well, we may have bribed them a little with the help of the Sodor Sweet Shop. 😉
What I love about this park is there are many indoor spaces. When we got a little chilly, we went to their indoor park for a bit. It was so much fun! They have large climbing structures, a ball pit, slides, and tubes to climb through. It's a great way to warm up or cool down in the summer. They also have a train museum with a large model train set up. Roman could've sat in there for hours watching the trains!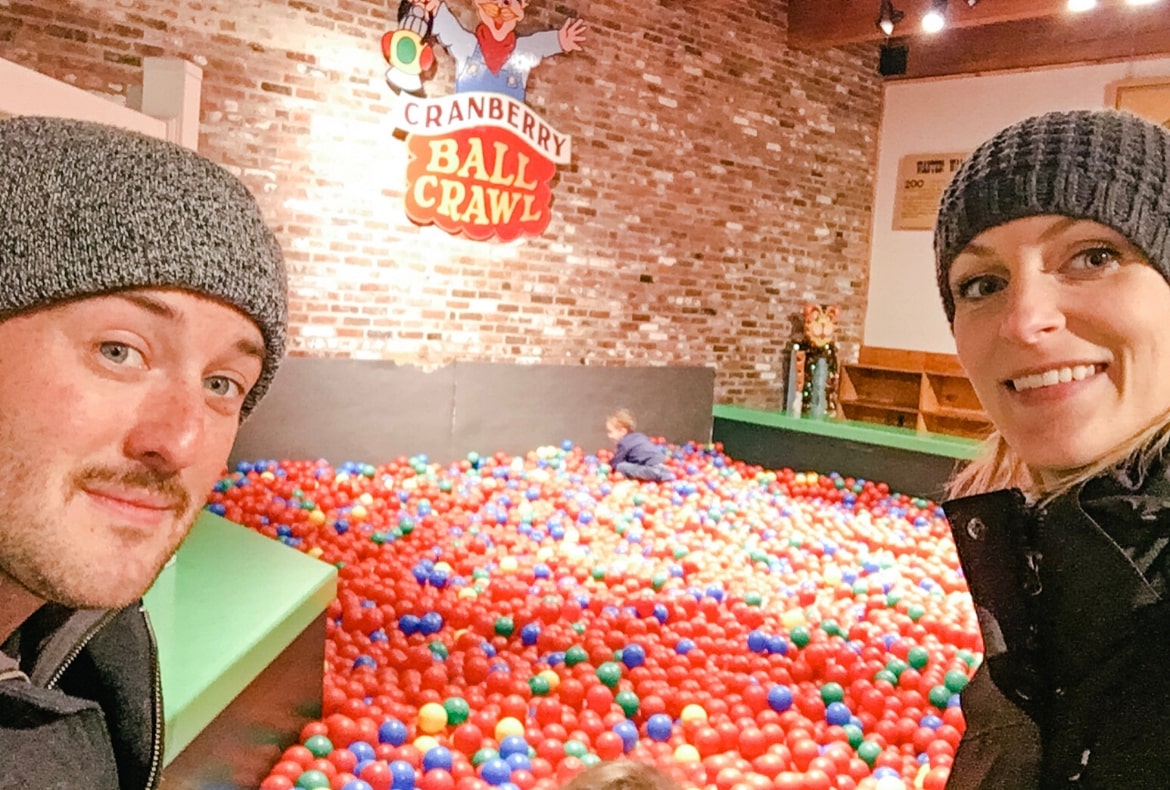 The Festival of Lights
I was so excited to bring my family to Edaville to enjoy their Festival of Lights. At this time of year the park is decorated for Christmas with thousands of lights. It was just beautiful! And it definitely helped get me in the Christmas spirit.
We loved our Thomas the Train ride around the park. We waited to take the train ride once it was dark, which allowed us to see many more light decorations. It also had the best view of the park, which helped us see the stunning lights from a distance. Roman and Mallory loved every second of the train ride. Their faces lit up with every decoration and there wide-eyes proved how amazed they were.
Visiting Edaville
If you're in the New England area (or maybe you're not, but your child is a Thomas fanatic) I highly recommend visiting Edaville Family Theme Park. It's super kid-friendly, with large walk ways big enough for strollers. The rides are based towards all toddlers. Even my peanut, Mallory, who is 29 inches at 2-1/2 years old, can go on most of the rides with an adult!
The park is super clean, the workers are very friendly, and like I said before, there are many indoor areas in case that New England weather sneaks up on you. Roman specifically LOVED the room with all the model trains.
Overall, Edaville Family Theme Park is a wonderful place to visit with your family and young children! If you're looking for something fun to do this Christmas, I can't recommend the Festival of Lights enough! I didn't find it overwhelming for kids, like many other holiday festivities can be. There is something for everyone at Edaville and it's a great way to spend time with your family creating new memories!
If you want to read about our trip to Edaville we took this past summer click here!
If you have a friend in the New England area who would love to visit Edaville, share the love please!