Let's face it, these have been strange and uncertain times. Most of us are working at home or are out of work because of the Coronavirus. Our kids are out of school, leaving us moms to figure out either how to work at home with them or keep them entertained during the day. Heck, some of us are even attempting to home school our school-aged children while they are home.
In the midst of these crazy times, just know you are not alone! This is unnatural for all of us, even the biggest introvert is struggling. Being stuck at home with our family is a big change for everyone, but it doesn't have to be hard. As a work-at-home-mom of 2 young children, I want to help you. In this blog I'm going to give you some ideas of ways to keep your kids entertained while you continue to work at home.
Working At Home With Kids
First off I want to tell you, your kids are probably going to watch A LOT of TV and that's ok. You don't need to be entertaining them all.day.long. That's no good for anyone. Here is how I manage working at home and doing a little bit of "home schooling." (I put that in quotes because I'm not truly home schooling, I'm simply taking my son's teacher's lesson plans and implementing them at home.)
Schedule/Routine
I really cannot recommend this enough. Having even a basic daily schedule will help you carve out family time and work time. Write it down each day or week and be as detailed or not detailed as you want. I typically get pretty detailed for mine because that's just what works for me. Below is a basic schedule idea you can use for yourself.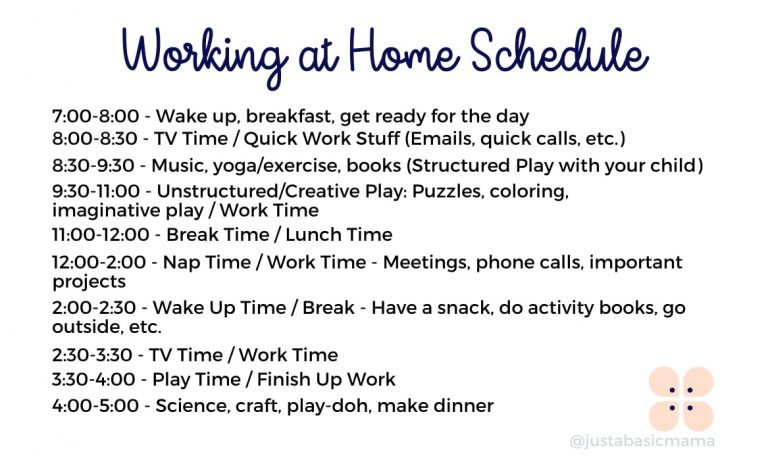 Free Play/Unstructured Play
This is a big one! Please don't feel like you need to have every minute of everyday planned out. You do NOT need to be entertaining your child(ren) every second, in fact you shouldn't be! Letting your kids have free or unstructured play is good for them. It allows them to be creative and use their imagination. This is a great time for you to get work done, too.
Structured Play/Craft
Doing a craft or some structured play each day doesn't have to last long. A half hour to one hour is a good amount of time. You could do some puzzles or coloring with your child, practice letters or math, and even do an art activity. I get a lot of craft inspiration from Pinterest, follow me here for lots of ideas!
If you don't have time to do a craft until the afternoon when work has slowed down, that's ok too! Don't think you need to do school stuff during school hours. We've been doing crafts in the afternoon at like 2 or 3:00 and it's working great!
Rest Time/Nap Time
Nap time is obviously going to be the time you can get the most work done. Save all your big work stuff for this time. Meetings and phone calls will be easiest at this time, along with any important projects that need your complete focus to get done.
Now, if you have kids who don't nap anymore (like me) this can be a little more challenging. This is when I say watching TV or having iPad time a little more than usual is ok. Don't beat yourself up about it!
What I've been doing is, after lunch my kids have "Rest Time." They go into their bedroom and play, look at books, listen to relaxing music, and I feel good about this because there's less screen time. The first day we did this they lasted about 20 minutes before asking to come out. By day 3 they didn't want to come out and we've already worked up to one hour of rest time in their bedroom. I mean, I got to shower and do my makeup in peace!
After they have their rest time, they are allowed to lay down and watch TV. It could be a movie or some YouTube videos, it doesn't matter to me honestly, and this usually takes up another hour or 2. Do my kids get over the recommended 2 hours of screen time each day? Heck yes. Oh well!
Ending Your Day
When work is over, let it be over. Try, if you can, ending your work day a little earlier than normal and then put all work stuff away for the day. This is time you can spend one-on-one with your kids, make dinner, have outside time if weather permits, etc. If this is the best time to do a craft or look at books together, then try that too! Like I said in the beginning, "school work" doesn't need to be during school hours. Do what works for you. And remember, these are weird and unnatural times. We are not used to this, but you've got this!
I hope this is helpful to you for managing working at home while also entertaining your kids. Just know this is hard work, and we were not meant to be mother, worker, teacher, maid, chef, you get what I'm saying, all at the same time.
If you need a list of ideas for things to do with your kids while in quarantine, click HERE. Please, share this post with a mama friend who needs it!