As a stay-at-home mom I try to find things to do with my kiddos that are free or inexpensive. It makes those long days so much easier when I can get out of the house, even if its just for an hour. I've rounded up a short list of easy things you can do with your kids literally right now…so pack up the diaper bag, pick one thing from the list and get out and have some fun!
Go to your local library – You don't need a library card or a membership to go to the library. And most libraries host a weekly story hour for specific age groups. A lot even have a children's section with toys, games, and computers allowing you to spend the morning there for….FREE! This is one of our favorite things to do! We've actually dubbed Friday, "Library Fridays." We go for a one hour story hour then afterward the kids play with legos, the train set, or color. The list goes though…there's SO much to do!
Go to a local playground/splash pad – Playgrounds are everywhere. Check your Google maps if you can't find one and I'm sure you will find something nearby. There are usually other kids to play with and it's a great way to get some fresh air and exercise. During the warmer months splash pads are a fun way to cool off if you don't have access to a pool, or the beach seems too daunting.
Go to a Pet Store – I know this one sounds INSANE. But my kids LOVE going to PetSmart and just looking at the fish, hamsters, birds, and did I mention the fish!? LOL. I even had a worker tell me one day that parents bring their kids in all the time just to look at the fish. So that made me feel a little less weird. But honestly, my kids could spend an afternoon their if I would let them! It's not typically a busy place either, so I don't feel too bad letting my kids run down the aisles. 😉
Find some trails/rail trails – Lots of state/local parks have walking trails you can go to. It's a great way to go on a nature walk and explore with your kids, while getting some exercise and outdoor time. Rail trails seem to be everywhere now too, and are usually paved which makes for great strollers walks!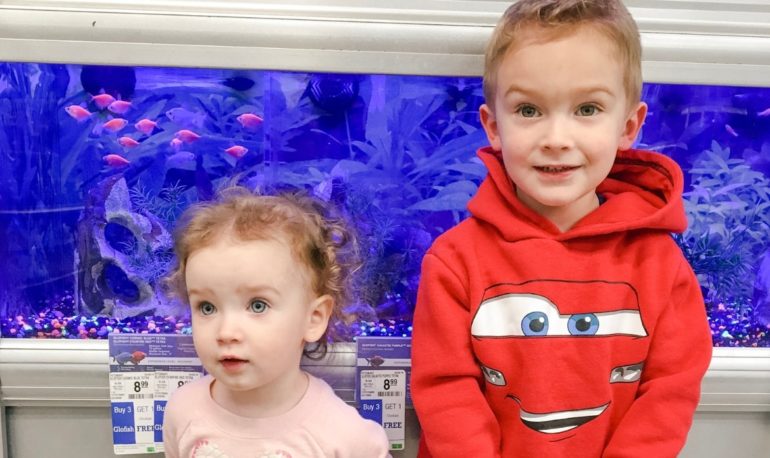 There you have it, mamas! Four super easy, super fun, and super FREE things you can do with your kids right now. Get up and GO! And if you have anymore ideas, leave them in the comments.
If you need something to do right at home, click here for an easy science experiment!