Recently I've seen a lot of advertisements for Elmer's Glue Slime. I've seen TV commercials and posts on Instagram, so I wanted to try it for myself. And I'm so glad I did.
You only need 3 ingredients and you probably have them in your house. Elmer's has a huge variety of glue you can use for it, too. From glow-in-the-dark, to clear, to metallic…any slime will look so cool!
I bought metallic and glow-in-the-dark (or "glow up" as Roman calls it.) my original plan was to have Roman and Mallory make their own. Then I thought better of it and we chose to just use the glow-in-the-dark for our slime to make sure we liked it.
So let's get to making slime….I got this recipe right on the Elmer's website!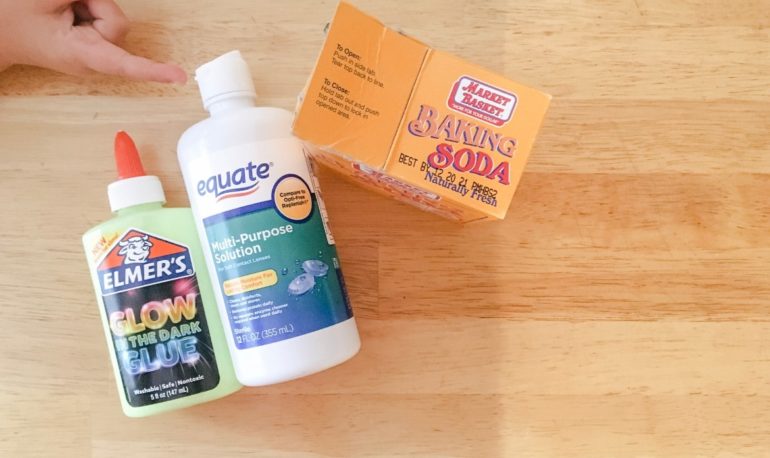 Here's what you'll need:
A whole bottle of Elmer's Glue (4 oz. size)
1/2 tbsp. baking soda
1/4 tbsp. contact solution
How to make slime:
Mix all the ingredients together and you have slime. We needed to add a tiny bit more contact solution to make it less sticky, but other than that the slime was perfect!
And my kids LOVED it! They literally had hours of fun. I've honestly never seen something hold their attention for so long. Roman tends to get a little uncomfortable about some sensory things…and he didn't mind the slime at all!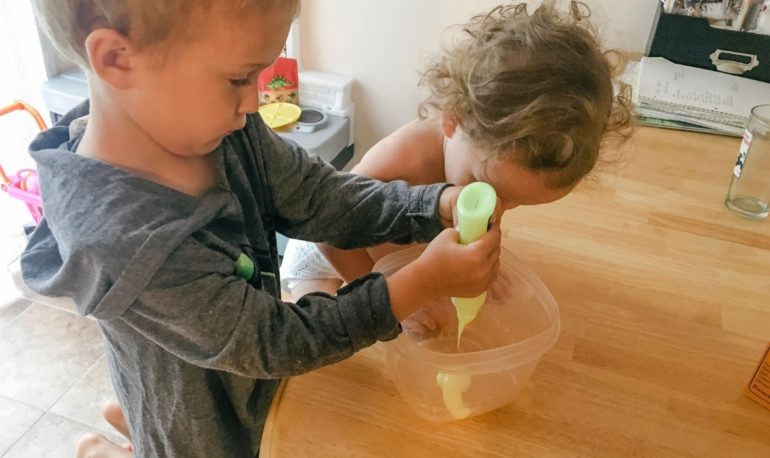 Storing Your Slime
Once the kids were done using the slime I just put it in a Tupperware. It's held up perfectly in one for a few weeks now. Whenever the kids eye it, they play with it at the table for a little while, then put it away. It's great!
I definitely recommend making it. It doesn't take long to make, and like I said, it's a hit! I'm sure you child(ren) will stay occupied for a while. So you can cook dinner, clean up the living room, or maybe pee alone. 😉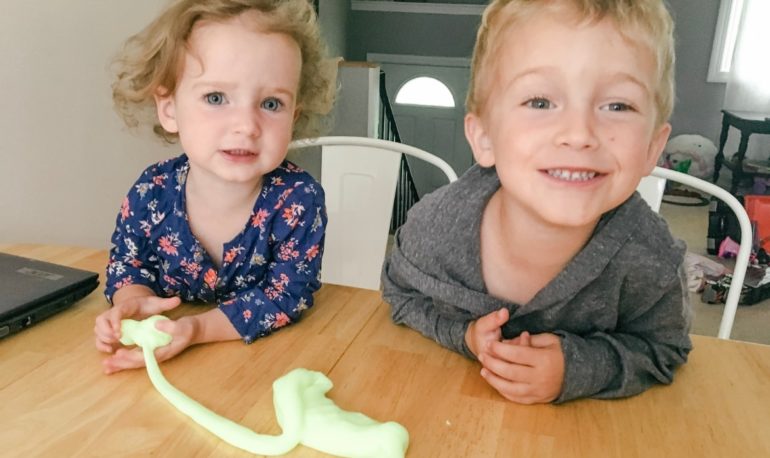 If you have a friend who you think would love to make slime, go ahead and hit the share button! Do you think you'll be making slime with your kiddos? Let me know.
For even more craft ideas, mom life, motivation, and more sign up for my email list below! Get a freebie too when you sign up!