On June 3 I started a "30 Day Park Challenge" with my kids. We set out each day to find a brand new park to play at and we're doing it for 30 consecutive days. Today we finished day 15 which puts us half way through. 15 different parks we've been to every single day. Not all have been completely new parks, meaning we have been to them before, but there's a different one planned every day.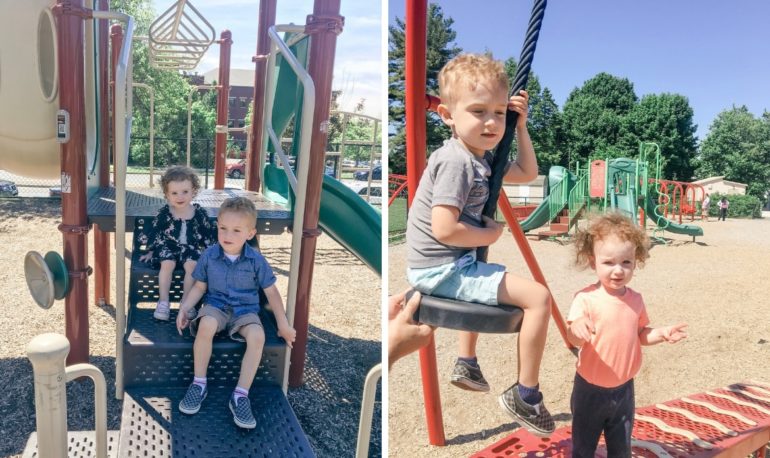 First off let me tell you, it's been A LOT of work! I honestly wasn't expecting this to be difficult. The most challenging part has been actually finding parks. If you go north of my town it's VERY rural. Going south is more urban but I don't know the areas very well. Overall, there's just not a ton of parks around so it's taken some planning. Most days I have to drive 20-30 minutes to find a playground. I get it's not that long a drive, but add in the ride home plus playing time…it's a 2-3 hour ordeal.
I like to give Roman and Mallory at least an hour to play to make it all worth it. But some days have been busy and we might only get 15-30 minutes of play.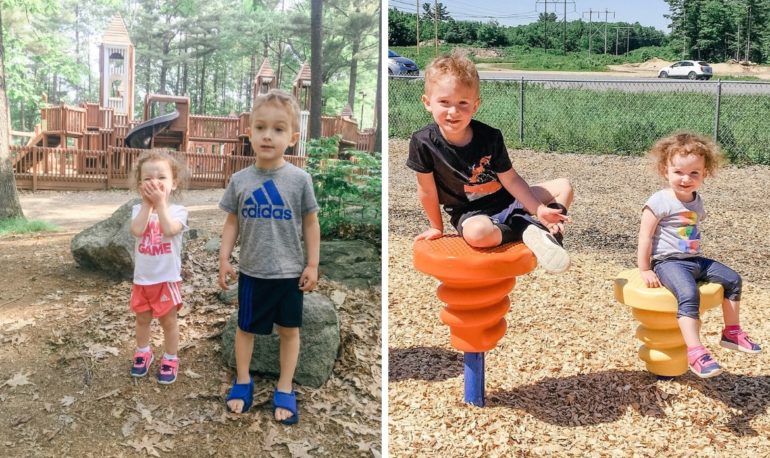 The pros have definitely out weighed the cons of it all though. I watched my kids grow so much in such a short amount of time. Roman's gross-motor skills have improved immensely…and I didn't even know they needed to! He loves climbing on everything and he's much less hesitant about it, as well. He's gotten so much braver and sure of himself.
I've also seen him improve in other areas. Within 1 week of doing this challenge he was able to ride his tricycle without any help. Maybe it's coincidence, maybe it's muscle strength he's gained from playing each day, I don't know. He's a very active kid anyway, so I'll never know, but I think playing at a playground each day has something to do with it.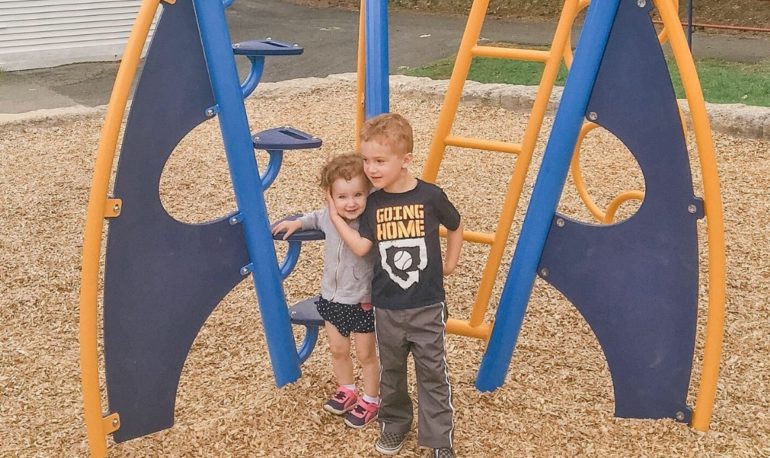 Mallory is 2 years old, so this is her first real summer being able to explore and kind of play on her own. She loves the swings and has a new found love for sandboxes. You don't find many at parks though, so she enjoys them when we do find them! She is also super brave, will climb any ladder no matter the height, and she loves going down slides, no matter how tall! She makes me nervous with her fearlessness!
Like I said, it's been work…but it's been worth it too. Watching my kids learn, grow, and explore has been awesome. And as tough as it's been, it's almost a break for me as a mom once we're at the park. I can usually sit and relax and watch them play and make new friends. Less fights I'm breaking up and messes I'm cleaning at home! 😉
How's your summer been going? Have you tried my 30 Day Park Challenge? Let me know in the comments! And click that little share button to share with your friends! 🙂